Lelli Kelly Girls Shoes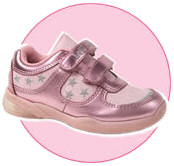 Lelli Kelly shoes are the result of an intensive study of girls' environment and their quality demands as they grow using technology to promotes the healthiest environment for feet.
Quality Components
All components of Lelli Kelly shoes are in accordance with the rigid European quality standards. The inner sole is made of real perforated leather and the rubber outer sole is light, highly durable, anti-skid providing maximum grip on every surface and offering good cushioning to the girls feet.
Feet Always Feel Dry
All Lelli Kelly shoes contain special Latex Foam inserted beneath a perforated leather "Dryz Sole" insole, which absorbs moisture by turning it into gel, thus providing superior sweat absorption. This maintains a dry, comfortable environment for your girls feet so they feel fresh in all weather conditions. In addition to this all Lelli Kelly shoes incorporate an odour and antibacterial resistant feature which protects the feet from fungi and bacteria to keep the feet dry and fresh.

This is evident in the thermal image which shows the left foot, in the red zone, which has overheated after walking without a Lelli Kelly insole in the shoe, where as the right foot, in the green zone, has maintained the correct temperature after walking with a Lelli Kelly insole.
Some Lelli Kelly shoes also feature an innovative breathing system with holes on the two sides of the sole, which allows a healthy circulationof air which keeps the feet feeling fresh in all weather conditions.
Great Support For The Foot
Lelli Kelly shoes offer great ankle support which hold feet in more secured position and often feature loop and hoop velcro closures for easy fitting.
Extremely Fashionable
Lelli Kelly shoes are super sparkley, extremely fashionable and what every little girl dreams about. Designed with beads and sequins they cater to fashionable and trendy little girls offering a fabulous footwear collection for girls and are the most sought after kids shoes for little girls. They have been a valuable addition to a little girls' closet over decades for their vibrant colors and beautiful looks. Lelli Kelly shoes gorgeous looks help your small girl stand out in the crowd, which will complement any fashion.
Machine Washable
All the canvas shoes can be machine washed at 30 degrees. We would recommend washing inside a pillow case to protect the shoes and washing machine. Please remove leather insole before washing.
Free Gifts
Each pair of Lelli Kelly shoes comes with a free makup gift as featured on the television advert. NOTE: The actual gift will vary depending the shoes purchased.
Spring/Summer Season's Range
See the the latest range of Lelli Kelly girls shoes now in stock.